Bring Your Items And Get Instant Cash!
We accept almost anything of value. We can pawn or trade your well treated merchandise, or we can simply buy them from you. The best way to know if we will accept something from you to buy or trade is to ask yourself "Would I buy this?" If you would buy the item yourself, then more than likely we will too!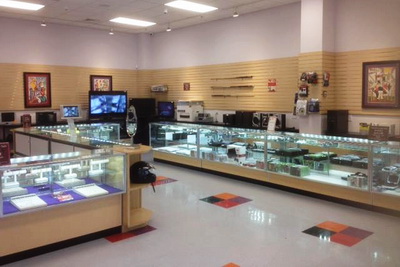 Follow these simple steps:
Check out our What We Take page
Gather up anything that matches
Contact Us if you have questions
Visit one of our local pawn shops
Walk out with cash!
We provide a market for electronics, old and new. We take tools, jewelry, firearms, video games and most any household item. Visit any of our local pawn shops in North Carolina and one of our knowledgeable staff members will assist you. We transform your clutter into cash!
A Pawn Shop to Trust
Picasso Pawn is one of the largest buyers and sellers of pre-owned, recycled and collectible merchandise in North Carolina. Pawn Shops are highly regulated and we fully comply with all local, state and federal regulations. More than just validating the source of the merchandise we take, we thoroughly evaluate our products to ensure they are not forged, copied or faked. We also make sure merchandise we take in is in proper working condition.
Merchandise for Sale
Picasso Pawn features a great selection of pre-owned merchandise at fantastic prices. Browsing our stores and looking through our ever-changing selection of merchandise is like being on a treasure hunt. You never know what bargain you will find! We carry anything and everything from household collectibles to high end electronics and electronic products.
Whatever you want, we either have it in stock, are going to get one in stock soon or can find it in one of our 10 locations throughout North Carolina. We have new items coming and going every day.
The Picasso Pawn Promise®
Extended Warranty Program now available on select merchandise! Ask an associate for details.
We Buy Gold & Jewelry
Picasso Pawn will pay more for your gold! We have been buying and selling precious metals in bulk to refiners since the 70s. Our 40-year plus relationship with the nation's top refiners gets us and you the best possible prices. Visit us today!
We buy gold in any condition! Not sure if it's real? We will verify it. We buy scrap gold, dental gold, broken gold or any other fine jewelry. We will pay the most. We also buy whole or broken diamonds, emeralds, sapphires, and all other precious and semi-precious stones. We buy silver coins, flatware, jewelry and sterling of any type. Most US coinage from 1964 and before (Pennies and Nickels excluded) has more value as silver than the face value of the coin itself!
Just because you donít wear it any longer doesnít mean it has no value. Don't let your unwanted jewelry (broken or not) sit at home collecting dust. Turn it into instant cash in as little as 10 minutes.
If you want to keep your jewelry but need the money right now, we are happy to loan you the money. A pawn is easy. We loan quick cash on jewelry or gold of any kind. We buy or loan cash on scrap gold, broken gold, dental gold, fine jewelry, coins or any other precious metal.
Visit one of our local pawn shops in Raleigh and Durham, North Carolina today and receive premium customer service from our knowledgeable and professional staff!